ARA Publications
The American Revenue Association has a number of publications available for sale. See below for a complete list of titles.
---
A Handbook of Cancels on United States Federal Wine Tax Stamps
By David G. Nussmann and Donald A. Woodworth, Jr.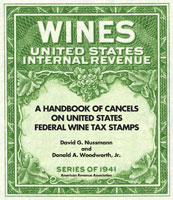 736 pages, hardbound. CD included. $65.00 to members and non-members.
The book lists over 1,000 companies which used wine stamps, along with the history of a large number of them. It has an individual history of each US wine stamp and details of rates they served. The full text of the book is also included on a searchable CD (Adobe Acrobat required), which facilitates associating fragments of a cancel with the actual company that used it.
---
A Catalog of United States Revenue-Stamped Documents of the Civil War Era by Type and Tax Rate
By Michael Mahler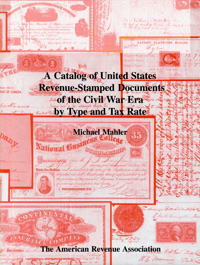 284 pages, hardbound. 8 page price guide supplement included. $36 to members, $45 to non-members.
This work is groundbreaking and the product of twenty-six years of intensive data collection, compilation and research. In addition to the numerous photographs throughout the book there are eight pages of documents in full color, and if these are not enough to get a fiscal history collector's heart beating faster, then it is likely nothing ever will. There are over 300 high resolution illustrations of documents. The volume is fully indexed and contains a bibliography of references cited.
The catalog's format is alphabetical by type of document and within many categories there are subsections treating the different taxation rates for those varieties of documents which experienced rate changes through the years. In most cases, notable examples are either illustrated or described and explained for each category. These lists are by no means intended to be exhaustive, but are illustrative of just some of the significant pieces known to exist.
Some specific types of documents were not generic, but were especially printed for various firms engaged in specific businesses, such as bills of lading for shipping companies or bills of foreign exchange for international banking houses. In these cases the book contains a list of companies from which examples are recorded, virtually challenging a revenue enthusiast to find one not on the list. Separate from, but accompanying the volume, is a 1999/2000 retail value pamphlet. The estimates of value are based upon the author's extensive experience. This value scale is a welcome baseline from which to begin a pricing structure usable by collector and dealer alike.
Mr. Mahler places the emphasis on the documents and the rates. Less emphasis is placed upon the particular stamps used, yet there are wonderful examples of postage used for revenue, state revenues in combination with federal revenues, pieces of stamps used at a fraction of their face value, as well as usages of rare and high denomination stamps. This adds further texture to an already rich and complex field of study.
This work is highly recommended to anyone with even a passing interest in our early adhesive revenues, for here, as never before, is the key to all of the different titles on the first issue stamps that have so mystified and intrigued collectors for well over a century.
---
Third Federal Issue 1814-1817 and Other U.S. Embossed Revenue Stamped Paper 1791-1869
By W.V. Combs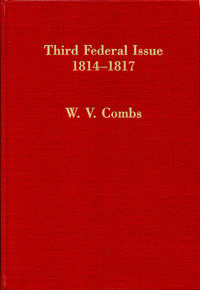 240 pages, hardbound. $23 to members, $27.50 to non-members.
Considerably broader than the brief title implies (treatment of the Third Issue in Chapter Six actually occupies only about ten per cent of the book), this work also deals with several contemporary groups of embossed seals and licenses related through a common origin in early federal legislation. Thus, Chapters One and Seven consider Supervisors' and Customhouse seals, while Chapters Two, Four and Five examine Liquor, Still and Retail licenses, respectively. In addition to the seven numbered chapters, a brief preface, useful introductory and bibliographic sections, 26 appendices are included. Distributed throughout the text are 84 strikingly handsome photographic figures of individual stamps and four tables of numerical data.
This work is the first consolidated treatment of all the classes of embossed revenue stamped paper issued by the federal government beginning in the late 18th century, excluding only the First and Second Federal Issues previously described elsewhere by the author. As such, it presents a detailed picture of the organization and operation of the earliest federal revenue-collecting and licensing services. Additional information about the designs, dies, papers and usages of the several issues is include, much of it for the first time. Relative scarcity of the different stamps and documents is indicated by the use of a "Frequency Index." In fairness, this book is not free of typographical errors. Most, however, are obvious to the reader (i.e., Figures 64 and 65 are reversed) and do not affect the intent or meaning of the text.
Admiral Combs has again written an excellent monograph on an area of fiscal philately scarcely known even to revenue specialists. The present study completes the trilogy begun with his earlier handbooks, the First Federal Issue, 1789-1801, published in 1979 by the APS, and the Second Federal Issue, 1801-1802, published by the ARA in 1988. Collectively, these three volumes must be regarded as the definitive treatment of the embossed revenue stamped paper issues of the United States.
---
Second Federal Issue 1801-1802: U.S. Embossed Revenue Stamped Paper
By W.V. Combs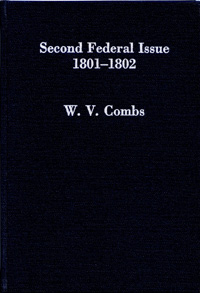 158 pages, hardbound. $17.00 to members, $20 to non-members.
Published in 1988 by the ARA this volume is second in the series — the first was published by the American Philatelic Society and is now out of print. Style and presentation are much the same as the other two books in the series. This work's area of concern is that of the 1801-1802 series of federal embossed stamps. These stamps are similar in design to the first federal issue but the names of the individual states have been removed. The physical features of the stamps and identification of various dies are discussed along with legislation affecting the issue and the actual usage of the stamps. Well illustrated.
---
Riley's Fiscal Philatelic Literature Handbook
By Richard F. Riley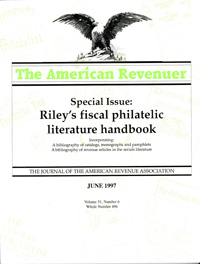 This publication appeared as the June 1997 issue of The American Revenuer. It is 224 pages, perfect bound with card cover. $7.50 to members, $10.00 to non-members.
This index was compiled by R. F. Riley and contains a listing of over 11,500 articles about revenue stamps worldwide which have appeared in various periodicals. The listing extends back over 100 years and includes coverage of now defunct publications as well as many still publishing (such as The American Revenuer). All entries are listed by key words which describe the country and the content of the article. This index is extremely useful to any philatelist or dealer who needs to know what information has been written about revenue stamps up to the date of publication.
The publication is now available as a PDF file and can be downloaded at no charge. The file is large (65 MB), so download time may be considerable on slower intenet connections.
---
History of Oleomargine Tax Stamps and Licenses in the U.S.
By Carter Litchfield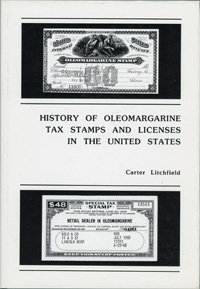 Hardbound, 128 pages. $27.50 to members and non-members.
The "butter vs. margarine" controversy that has raged in the United States since 1870 is well known to many of us, but what is little known that as part of that controversy was the imposition of numerous excise taxes on oleomargarine and the extensive licensing of those who manufactured and sold the product. To collect such taxes and license fees, both the federal government and state governments printed numerous varieties of tax stamps and license certificates.
Here is the first comprehensive study of these taxes and licenses, including a catalog of known varieties. An invaluable guide for collectors, and a fascinating look at history.
---
United States Internal Revenue Tax-Paid Stamps Printed on Tin-Foil and Paper Tobacco Wrappers
By John Alan Hicks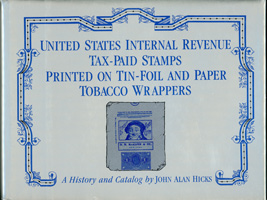 217 pages, hardbound. Limited edition of 600 copies. $55 to members and non-members.
A complete, authoritative reference of all tax-paid stamps printed on either tin-foil or paper used to wrap smoking tobacco, including proofs and specimens of the stamps. This is an indispensable reference for anyone interested in this phase of taxation, or in collecting these beautiful but fragile artifacts. It includes an introduction covering everything from the use of tin-foil in packaging to the types of tobacco, then treats the origins of wrappers, the wrapper manufacturers, patents, tax acts, even the prominent early collectors and dealers in this material. The body of the work is a catalog including scarcity codes as well as many illustrations.
---
Non-ARA Publications
The title below is not an ARA publication, but ARA members can buy it at a discount price directly from the State Revenue Society.
---
The State Revenue Catalog
Edited by Dave Wrisley
Please note that The State Revenue Catalog is not an ARA publication.
The retail price of the catalog is $97.00 and is available from a number of dealers. SRS and American Revenue Association members may purchase the catalog for $77.00, which includes shipping within the United States. Checks payable to the State Revenue Society should be sent to Harold Effner, 27 Pine Street, Lincroft, NJ 07738-1827. Payment by PayPal is available on the SRS website.
Also available on the website are SRS membership applications. Membership is only $17.50 per year, for which members receive four quarterly issues of State Revenue News, can participate in member only auctions, and much more. Membership applications can also be obtained by writing or emailing the SRS Secretary, Kent Gray, P.O. Box 67842, Albuquerque, NM 87193, email staterevs@comcast.net. Join the SRS and simultaneously purchase the catalog at the member price for a lower net cost.
The State Revenue Society announces that it has published the second edition of The State Revenue Catalog. The first edition, edited by Scott Troutman and published in 2007, was the first comprehensive catalog of the revenue stamps of all states in 50 years. The second edition, edited by Dave Wrisley, is the first catalog of revenues of all states with color illustrations throughout. Completely revised, the catalog is hardbound with 751 pages containing approximately 28,000 listings, 10,000 color illustrations, and updated catalog values.
The catalog reflects a massive six year long revision of the first edition. For the first time a thorough, organized effort was made to solicit all collectors to report information and scans of unlisted stamps for inclusion in the catalog. Nearly 70 collectors made significant contributions of scans of listed and previously unlisted stamps and other important details. This is the most complete state revenue catalog of the 50 states plus the District of Columbia ever published. Fish and game stamps are well covered in other catalogs and not included.